Other Southern California Dive Spots
Anacapa Far West End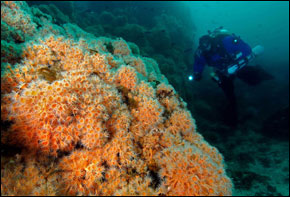 Anacapa Island's ridgeline extends underwater out from the West End in high relief pointing towards Santa Cruz Island. Very large crevices, cracks, and boulders provide significant living space for a multitude of critters. Large schools of blacksmith and topsmelt are common. Giant black sea bass are seen constantly and more than a few reliable sightings of great white sharks have occurred as well. At certain times of the year mola-mola congregate in large numbers along with many dozens of sea lions. The invertebrate life is plentiful throughout the depth range with sea grasses and kelps forming thick stands in the shallower regions.
One of the big reasons so much life is found here has to do with the near constant bathing of current and surge. For this reason, West End is considered an experienced dive where the preferred mode of diving is live boat drifting.
Shiprock
Looking much like a ship sinking stern first, Shiprock is one of the most popular dive sites on the lee side of Catalina. There is a full range of technical depths from several hundred feet up to shallow kelp forests only a few feet deep. The tremendous flexibility is just one of the great draws.
Many marine critters either call the rock home or pass by on their travels. Very large schools of blacksmith, mackerel, barracuda, etc. are routinely seen here. Everything from the 2 inch blue-stripped goby to great whites and even killer whales have made an appearance. Sea lions, harbor seals, and cormorants (yes, swimming along side you at 60ft) many times are your diving companions. This is a favorite California site of many.
When conditions are calm and clear novices will find a relatively easy dive. Conditions can change quickly though and currents and/or wind can change things dramatically. Steep drop offs are also the norm and heavy boat traffic is possible. This is a popular 1st or 2nd dive site choice depending on the objectives of a boat charter.
underwater photographs by Joe C. Dovala subject to copyright
Dive Information
SoCal Dive Sites
Page links
SoCal
Wreck Diving Sites