Southern California Ship Wrecks
TBM/TBF Avenger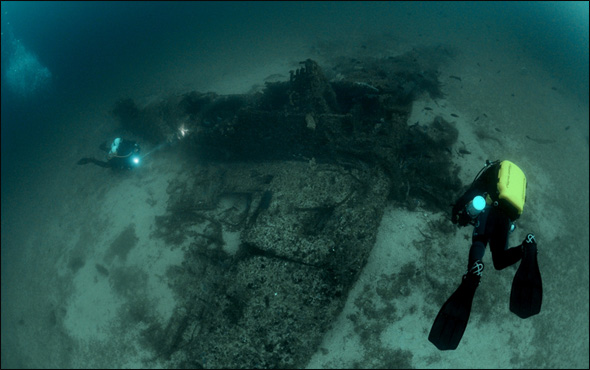 Located in about 125 feet of water at Anacapa Island are the remains of a WWII TBF/TBM Avenger. Records are sketchy but it appears the torpedo bomber crashed after a mid-air collision in 1944. There is little of the plane left but from a historical perspective it's worth a visit. The amount of life making the old warbird home is quite amazing. Due to its small size it can be difficult to locate and it's very delicate so care is needed when visiting. Divers should have good buoyancy skills and not grab hold of the aircraft. This dive is a midlevel skill dive with a moderate depth and possible currents.
USS Hogan
The USS Hogan was a Wickes/Clemson class destroyer built in 1919. In 1940, the Hogan underwent extensive conversion to a high speed minesweeper. She saw extensive battlefield service in the Atlantic and Pacific theaters of WWII including fighting off Kamikazes at Lingayen Gulf in the Philippines. She finished her war time career bombarding Iwo Jima. She was sunk in late 1945, during naval gunnery and bombing tests near San Diego. The ship wreck lies in 125 feet of water and there's a fair amount of intact structure remaining.
USS Hogan

| | |
| --- | --- |
| Rig/Type | Wickes/Clemson Destroyer |
| Cause of Sinking | Bomb target |
| Length | 314' 6" |
| Breadth | 31' 8" |
| Tons | 1,060 |
| Cargo | None |
| Built | Union Iron Works, San Francisco 1919 |
| Location | San Diego |
| Hull Construction | Steel |
| Depth | 125ft |
USS Moody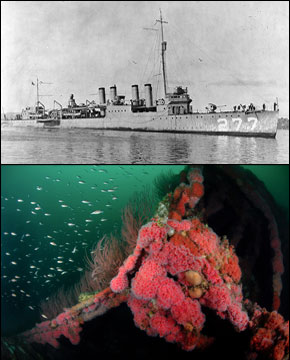 The USS Moody was decommissioned after serving 11 years with the US Navy in June 1930. She was purchased by MGM and towed from Mare Island into Craig shipyard and reworked to represent a German destroyer for the 1933 movie production "Hell Below." On February 21, 1933 the Moody was blown up and sunk while portraying a German ship under fire.
The Moody rests in 140+ fsw and is an experienced deep dive. The ship is broken in two sections and the hull compartments have collapsed. The two sections lay parallel about 100 feet apart. There is still considerable relief to the wreck site and many fish and wolf eels call the Moody home. It's also covered with large expanses of corynactus (strawberry anemones) and other invertebrates.
USS Moody

| | |
| --- | --- |
| Rig/Type | Wickes/Clemson Class Destroyer DD-277 |
| Cause of Sinking | Sunk as a prop for the movie "Hell Below" |
| Length | 314' 4" |
| Breadth | 30' 6" |
| Tons | 1,090 |
| Cargo | None |
| Built | Bethlehem Ship building Corp., Squantum Mass 1919 |
| Location | San Pedro Bay |
| Hull Construction | Steel |
| Depth | ~145ft |
Peacock
The Peacock is somewhat of a mystery wreck. Some believe she was the Spirit of America, but there is no definitive evidence either way to prove or disprove this claim. It is known she's a WWII era minesweeper with a composite wood hull and steel frame. If she is the Peacock, she started her career at the end of the war and ended it as a training ship before being decommissioned in 1955.
In the early 60's she was used for towing. By the late 60's she was sold again and her history becomes very hazy. A number of stories abound but one of the most interesting is that she was a floating bordello serving Long Beach/San Pedro. Early divers found a fair amount of red cloth and mirrors which gave "credence" to the theory.
Peacock

| | |
| --- | --- |
| Rig/Type | ex - WW2 Minesweeper |
| Cause of Sinking | Unknown |
| Length | 136' |
| Breadth | 24.4' |
| Cargo | None |
| Built | November 27, 1943 in Orange, Texas |
| Location | Scorpian Anchorage, Santa Cruz Island |
The wreck lies upright in about 65 FSW of water with her stern pointing towards shore. Since she's in an anchorage, the sandy dive site is quite well protected. All the structures have collapsed but there is relief off the bottom with numerous ledges and holes.
"Tuna Clipper"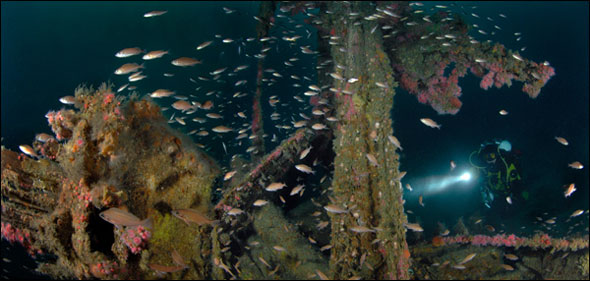 She lays in about 165+ fsw and is an experienced deep dive. This wreck appears to be an old wood tuna clipper fishing boat. Little is known about her or why she's sunk near shore at the west end of Catalina Island. She is covered in fishing nets, including newer nets from illegal fishing operations.
The boat is quite broken up but there is considerable relief from the flat sands surrounding it to provide homes for many fishes and invertebrate life.
Triple Crown
The Triple Crown was a drilling rig supply vessel that sank with loss of life in 1968, about 8 miles off Santa Barbara, CA. Below is an excerpt from the Coast Guard report:
"The M/V Triple Crown, official number 516 480, sank at or about 0345, PST, 25 November 1968, in a position approximately eight miles southeast of Santa Barbara, California. Sixteen of the twenty-five persons on board the vessel were rescued. Seven bodies have been recovered from the sunken vessel. Two persons are missing and presumed dead. One person suffered a broken ankle. The Triple Crown was engaged in picking up anchors and chain for the offshore drilling rig Bluewater II when the vessel listed to starboard and sank stern first."
She lays in about 260 FSW in an upright position. Due to the depth and fairly recent sinking she's in very good shape. This is a very experienced deep dive with unpredictable bottom conditions and extreme depths. View past pictures and video from a Triple Crown Dive.
Triple Crown

| | |
| --- | --- |
| Length | 159.5' |
| Beam | 40.1' |
| Draft | 13.4' |
| Engine | Twin Oil Screw |
| Type | Drilling rig supply and anchoring vessel |
underwater photographs by Joe C. Dovala subject to copyright
Dive Information
SoCal Wrecks
Page Links
Other SoCal
Dive Sites